All you need: Mat, Laptop/Phone & Zoom app.
Class Dates:
Tuesdays – 11:00 (1 hour)
Thursdays – 10:00 (1 hour)
We have limited each class to 12 people. 
If you could like to see other class times – please share your feedback with us!
While much of what we do as Physiotherapists involve hand's on treatment – physio rehab is versatile and can be adapted based on the circumstances one is in. No matter what the situation – our physio's can get you feeling stronger and confident, even if we're far away.

Online appointments can help you achieve:

· Assessment/Diagnosis.

· Exercise prescription and rehabilitation planning.

· Comprehensive self-management strategies.

· Guided exercises sessions.

· Onward referral for appropriate imaging if needed.
Cost of our appointments:
Initial Consultation (45 minutes) £45.00
30 minute follow up £45.00
We have had so much success these past few weeks online, with amazing feedback from many of our patients. Don't kick it until you have tried – the goal is to get you better and help you progress, which is what we will do!
Try now and Book Online.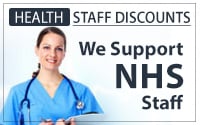 NHS Staff get 10% Off all of our services!
Terms and Conditions
On appointment, you must present your NHS ID badge.
Cannot be used in conjunction with any other offers in the clinic.
Only available on one-off appointments.
Cannot be used on block purchases.
Complete the form below and one of our reception team will be in touch!
For peace of mind, why not request to speak with one of our Physiotherapists over the phone at no extra cost. Simple let us know in the form below.