Our Physio's are live and ready to accept online initial and follow up sessions. We want to make it easy for you to access our Physio team, so that you can at least find out what your issue or concerns are and keep fit and on-top of the current progress in your rehab program.

Sessions costs:

Zoom Physio Initial Consultation (30 mins) £45.00
Zoom Physio 30 minute Follow up £45.00
Zoom Physio 45 minute Follow up £67.50

Pre-payment is required – so you can Book Online or pay by BACS.
Once your booked and prepaid – we will send out your ZOOM Invitation

Don't forget to get yourself setup at home for any rehab stuff – have your theraband, mat or weight ready.

(If we do go into lock-down – we will be available remotely)
Keen on building core strength in a safe and professional space? Then Pilates is just the right thing for you. Try a 1:1 session today with 50% off! Contact reception below:
Our mum and baby package is great for newly born babies and mum's to have a health check with our Paediatric specialist Roxane Borghini. The appointment is 90 minutes long and split between mum and baby. To find out more, click below.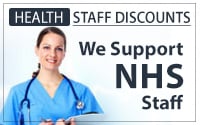 NHS Staff get 10% Off all of our services!
Terms and Conditions
On appointment, you must present your NHS ID badge.
Cannot be used in conjunction with any other offers in the clinic.
Only available on one-off appointments.
Cannot be used on block purchases.
Complete the form below and one of our reception team will be in touch!
For peace of mind, why not request to speak with one of our Physiotherapists over the phone at no extra cost. Simple let us know in the form below.